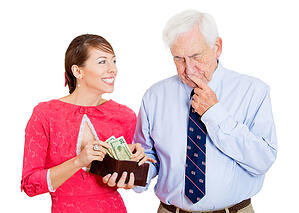 $30,000 – that's the average cost of setting up shop and starting your own business these days. It may not seem like much at first until you consider the competition for loans and the difficulty securing a hefty investment up front. When you're unable or unwilling to seek loans from private lenders and banking institutions, your natural inclination may be to approach friends and families. Here are a few things to keep in mind, compliments of Ann Irons, a small business CPA in Bellingham, MA.
Weighing Your Options
Before you approach a prospective financier, consider the advantages and disadvantages you may encounter over the course of business:
Pros
You've already established trust
Fewer requirements must be met
Subjectivity, or the "We know him; he's a good guy" advantage
Cash is usually received sooner
Less paperwork
Cons
Lender may expect to gain control over decision-making in exchange for funding
Failure or delays in repayment can harm relationships
Other perceived entitlements, such as free or discounted merchandise or services
Considerations for the Friends-as-Financiers Route
Use your discretion when choosing a prospective financier: Don't pursue assistance from someone based solely on familiarity, e.g. a parent or sibling. Although it's likely that either would be willing to help, the responsible move is to solicit funding from someone who understands the risks of doing so and has a solid grasp on business principles. Remember, it's not just money that's at stake; it's also your relationship. If you feel you have no other options, Irons recommends making risks and plans as transparent as possible.
Actions speak louder than words: Show that you have more than just a good idea. Back it up with detailed research, a business plan, pro forma financial statements, and a list of expected expenses. Doing the legwork demonstrates that you're ready and willing to put your plan into action.
Don't choose an arbitrary dollar amount: It's tempting to take as much as you can get, but this is a risky move. Use your business plan as a guide to determine the requisite amount, accepting only what is needed. Once you've proven yourself by repaying that initial amount, you'll have more leverage in future rounds of funding. As you move forward, share details of your progress. How is the money being used? What is the return on the investment? How close is this to your initial predictions?
Set out a formal payment plan: When mom and dad aren't in a hurry to recoup their costs, it's easy to let your payments slide. Unfortunately, not everyone is as forgiving. Remember, you're running a business, and even though you have personal relationships with your lenders, they deserve the same courtesy and professionalism that you would extend to a private lender or bank.
Questions about financing your Bellingham startup? To learn more about accounting and finance, or to schedule a meeting with Ann Irons, CPA, LLC, contact us at (508) 966-0700. We provide tax, bookkeeping, and accounting services for businesses and individuals located in and around Bellingham, Woonsocket, Milford, Medway, and the surrounding areas.