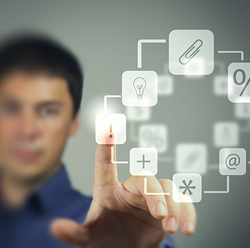 Whether you spend your days as a small business owner responding to emails, making phone calls, or working out in your field of specialty, the last thing you have time to do is accounting data entry.
The task seems menial and is often time consuming when you have a million more important tasks at hand. Skip the stress and allow our team to take care of this for you before you find yourself with a mountain of receipts and statements.
Experienced with Software
If you haven't worked in detail with accounting data entry software, the time to brush up on the basics might not be when you're attempting to run a small business. The basics will help you track the bigger numbers, but we have expert knowledge and experience using a variety of accounting software. We typically rely on QuickBooks. However, we will discuss your current tracking system with you, and with either incorporate our new plans into your system or move your information over to new software. Giving us control over the data entry reigns means you won't ever have to stop to call a friend or technical support when the input method you have selected throws up a roadblock or error response.
Optimized Spreadsheets
As a CPA, Ann has worked on optimizing the spread of financial data for over a decade and a half. She and the members of our team are accustomed to working with a variety of business models, and will create customized spreadsheets based on your goals and requirements. We know the formulas to enter and the best way to run daily, weekly, and monthly numbers, so you know where you stood financially two years ago, how you are today, and potential forecasts. This is particularly helpful when comparing several years of business to watch for trends in your profits and loss.
Cost Effectiveness
You have likely experienced a moment during which you thought it may be less expensive to track your accounting information on your own. However, even the most detail-oriented, diligent small business owners have days when the statements and receipts can "wait until tomorrow" or when you simply enter numbers incorrectly and cannot find the discrepancy later. Focusing on the task of inputting date into your computer takes away from minutes you could use to improve your business or sell your goods and services. In the end, this choice may potentially be far more costly than securing professional services, which are always precise. Enlisting the assistance of a team with years of experience is also more effective and cost-effective than hiring an additional employee simply to input information.