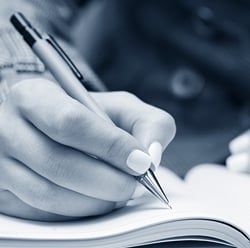 We provide bookkeeping services for businesses who want to:
Spend more time growing your business and less time tracking your money

Get better, more accurate reporting and financial statements

Segregate key cash management functions to reduce the risk of theft
When you first started out, it made a lot of sense to do your own books. After all, you had limited resources and could afford the time to do your accounting on a monthly basis.
But now your business has grown to a point where you are too busy serving the needs of your customers, and don't have time to keep up with your books.
Bookkeeping is a lot like exercising. It isn't always enjoyable, but avoiding it can cause serious problems with your health. The same holds true for bookkeeping for your business.
If you avoid keeping up with your books, the health of your business will suffer.
You want to be sure your books are in order, and that you are tracking all your revenue and expenses - this will enable you to make the right decisions for your business.
The CPA Advantage
There are many advantages to using a CPA firm for your books. Three advantages to outsourcing your accounting to a CPA firm:
Your books will be kept up to date. The job will be done on a regular basis without fail, leaving you free from worry, and with more time to grow your business.

Your accounting and tax needs are managed by the same people, avoiding paying more than your fair share of taxes. Bookkeepers don't always know the latest tax law and are not necessarily as qualified as a CPA would be, to manage the tax affairs of your business.
You can plan for the future as well as record the past. Every transaction of your business has an impact on your taxes. A CPA has the knowledge to help you make decisions that have a more positive effect on your future tax liability.
Our CPA firm provides a comprehensive package of bookkeeping services to help small business owners manage their financial and accounting concerns, while staying on top of your tax liability.
QuickBooks™ for Small Businesses
We will happily work with your current accounting software, but we specialize in working in QuickBooks™. We offering the following options:
Short-Term Projects: We will get your books up-to-date and organize your QuickBooks™ or other files.

Ongoing Projects: Our team will work with you regularly - daily, weekly, monthly, or even quarterly. Whatever timeframe we determine is appropriate for your business.
As part of our monthly bookkeeping and accounting services, we are able to:
Create and manage your chart of accounts
Analyze and record your transactions
Set up and manage accruals
Post transactions to the general ledger
Balance bank accounts
Manage your cash position
Manage and pay your bills
Manage your receivables
Analyze your inventory (if needed)
Process your payroll
Process your sales tax (if needed)
Prepare the trial balance
Prepare financial reports
Analyze transactions for discrepancies
Prepare and monitor budgets
Manage and report on cash flow
Post journal entries to the general ledger
Close the current periods books
Bookkeeping Services for Small Businesses
Accounts Payable
Paying your bills on time is important for a number of reasons. One of the more important reasons is that when you pay all of your bills in a timely manner, you have a much better picture of the cash position of your business. In other words, you can more accurately assess how your business is performing at any given point in time. This enables you to make more informed business decisions to help your business grow.

Accounts Receivable and Billing
You do great work and deserve to get paid the amounts you invoice your customers at the time you invoice them.

Financial Reporting
You, like other small business owners, prefer to make informed decisions. Accurate financial reporting that is also timely helps you stay on top of your business, and ready to make decisions in real time.

Payroll Processing Services
People who work for you need to get paid. As part of your payroll obligation you must ensure that you are making regular payroll tax payments to the state and federal government agencies. The first employee is the most difficult, believe it or not!

Payroll Processing - Third Party Payroll
Even if you have decided to outsource all of your payroll to a third party payroll service provider, you still need to make sure that payments to your employees as well as your tax obligations are paid.

Account Consolidation
Keeping your books as simple as possible is the easiest way to stay on top of the ongoing performance of your business.

Data Entry
Data entry is a time consuming and really not an enjoyable task for a busy professional. Your time is better spent on activities like serving the needs of your customers. Data entry is the last thing that should be on your mind.

Mail Sorting
As a small business owner you can get so caught up in the day to day operations of your business that you are unable to stay on top of your mail. Believe it or not, this can become a huge problem if important notices go unattended.

Do you need your individual or corporate taxes prepared too?
As a small business owner you can get so caught up in the day to day operations of your business that you are unable to stay on top of your mail. Believe it or not, this can become a huge problem if important notices go unattended.
Bookkeeping Frequently Asked Questions
Why should I outsource my accounting and tax work?
When you outsource your accounting needs, you or a business partner no longer have to double up, performing your job while performing the work of a CPA. There is a lot to keep track of with both the recording of your business transactions as well as staying up to date with the tax laws. That is the job of a CPA and we gladly do our job so that you can do yours.

We will reconcile all of your accounts, including bank accounts, loans, and credit cards
We have expertise that allows us to foresee potential issues and stop them before they occur, while solving existing problems
Our team knows the questions to ask and how to find and replace missing financial information
We communicate one-on-one with our clients for a personal relationship to build long-term relationships
What should I expect to pay my accountant?
The fees we charge largely depend on the nature of the work we perform for a particular client. The fees generally go up as the client work becomes more complicated because more time is needed in order to complete the project or ongoing work.
Will I have access to my files?
Any good CPA is going to make all of the source documents and files related to your bookkeeping and tax work available to you.