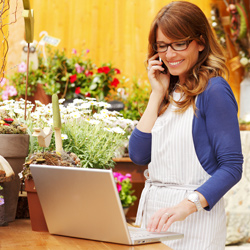 Owning your own small business is an exciting venture that, while referred to as "small" is anything but. The responsibilities that come with your dedication to entrepreneurship brings with it a wide array of administrative tasks you likely do not have time to address. Preparing your companies tax returns is but one.
You may think that you will simply keep all of your receipts and throw together your taxes when tax day is on the horizon. This way of thinking may cost you time and aggravation in the long run, and ultimately lead to you overpaying your fare share of federal and state taxes.
Why would you want to risk overpaying your fare share of taxes?
Internal Revenue Code and Tax Laws
The IRC and other laws associated with taxes change constantly. CPAs must renew their licenses every two years. In MA, this means 80 hours of class time covering updates to tax law and other relevant topics. Our team of tax preparers knows exactly how to prepare and file your small business taxes. Not only will we file your taxes, but we can help you throughout the entire year to make decisions that best benefit your financial outlook, so you optimize the amount of money you keep in your bank account.
Payroll Taxes
While you're trying to figure out how to keep track of all your deductions, you have a team of employees whose checks require accurate withholdings. Your business has money coming in and leaving on a daily or weekly basis, and you may even have several bank accounts to keep track of, so it can be overwhelming to be on top of which tax needs to be paid and when. Payroll tax problems can be very expensive - they are among the most highly penalized mistakes you can make with taxes. We will help you prepare your payroll tax forms and get those taxes paid on time. We offer the following services, which can help prepare you for an easy tax season:
Financial Tracking
Part of tax preparation includes accurate, consistent tracking of the money you spend and receive on a daily basis. When you are tracking your own money and suddenly find yourself faced with filing individual taxes, pulling together your information is a stretch. However, when you add the complexity of several bank accounts, investments, payroll, accounts payable and accounts receivable, and small daily expenses that you occasionally forget to consider, you have what may appear to you as an insurmountable mountain of financial information. Fortunately, this is what we do best.
We can sort through your financial statements and transactions, so you're squared away before tax day. However, if you sign on for other services, we can also take care of the planning throughout the year, so you never experience the stress of a last-minute scramble.